No charges for Ferguson cop who shot Michael Brown
Darren Wilson, the Ferguson police officer who fatally shot 18-year-old Michael Brown in August, will not be indicted on any charges, a St. Louis County grand jury decided Monday.

The grand jury had the option to indict Wilson on a variety of charges, ranging from first-degree murder to involuntary manslaughter. The grand jury, which was made up of 12 jurors who were selected in May, deliberated from Aug. 20 through Nov. 24. In the end, they found that the evidence did not support an indictment for Wilson. 


When reviewing the Brown autopsy findings, Prosecutor Robert McCulloch, who delivered the decision on Monday evening, said, "except for the first and the last wounds, the medical examiner was unable to determine the order of the shots."

McCulloch said the evidence would be released to the public.

In a statement released shortly after the decision was announced, the Brown family said they were "profoundly disappointed" that no charges were brought against Wilson.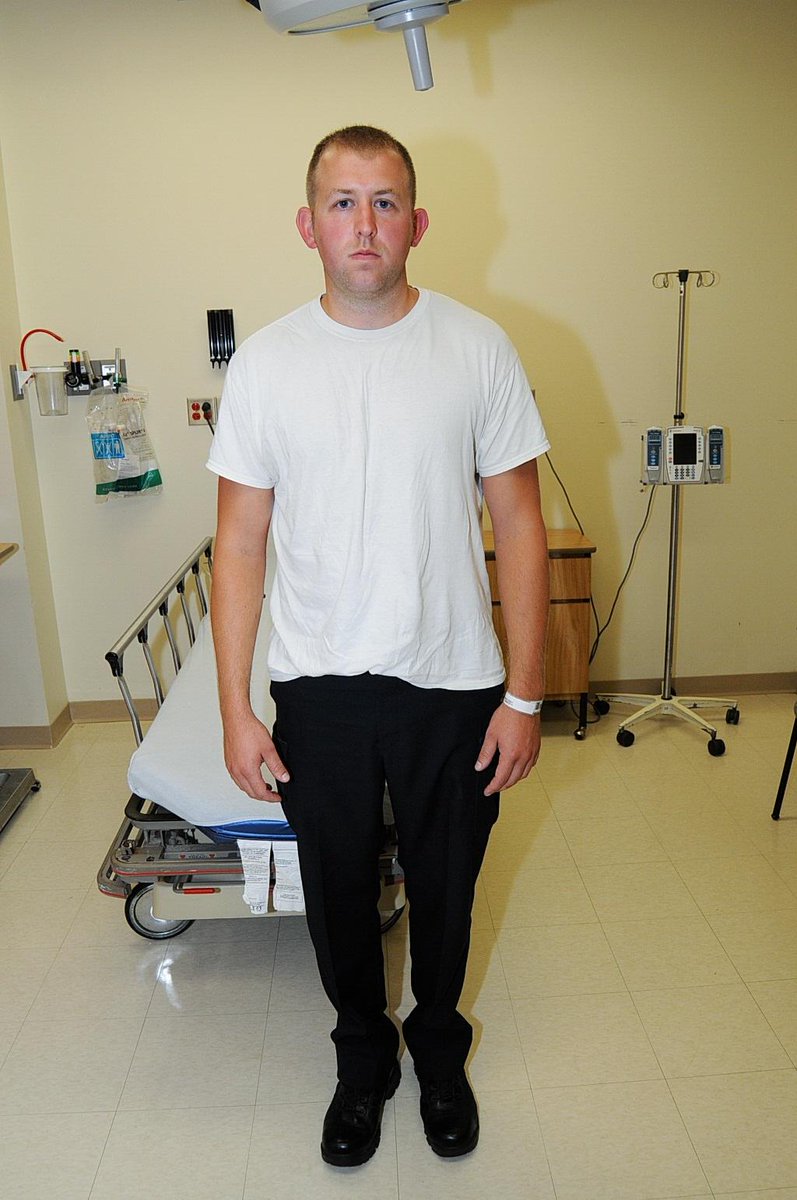 "No young man should ever be killed by a police officer and no police officer should ever be put in that position," McCulloch said.

Shortly after the announcement, protesters clashed with police, who fired smoke and pepper spray to disperse the crowds. Meanwhile, President Obama made a statement, urging protesters to remain peaceful.

"In too many parts of this country, a deep distrust exists between law enforcement and communities of color," Obama said. "We need to recognize that this is not just an issue for Ferguson. This is an issue for America." 

The shooting: What happened on Aug. 9

Wilson shot the unarmed black teenager at least six times, including twice in the head. There have been several accounts of how the fatal incident played out, but one reoccurring image is that of Brown with his hands in the air.

Witnesses said Wilson and Brown faced each other in the middle of the street, and the teenager had his hands up, as though he were surrendering, just before Wilson discharged the final shots. Supporters of Wilson say Brown was running toward him, not surrendering. The entire encounter happened in less than 90 seconds. McCulloch said the eyewitness testimonies varied widely and many didn't match up with the physical evidence.

"It has to be based upon all the information that is available. You can certainly take out a witness here and a witness there and come to a different conclusion," McCulloch said when asked how he justifies the grand jury decision. 

In his first public account of the shooting, Wilson told authorities that he feared for his life and was trapped in his SUV when the scuffle first broke out. He alleged that Brown reached for his gun during and punched him repeatedly, according to the New York Times. 


The St. Louis Post-Dispatch obtained surveillance footage that reportedly showed Wilson leaving the hospital about two hours after the shooting. Other officers and a union lawyer accompanied him. 

Brown's official autopsy report showed the teenager had been shot in the hand at close range. The Post-Dispatch, which first published the full autopsy report, consulted St. Louis medical examiner, Dr. Michael Graham, to interpret the findings.

Graham, who is not part of the official investigation, said Brown's autopsy report "does support that there was a significant altercation at the car." The accompanying toxicology report also revealed Brown had marijuana in his system.

Benjamin Crump, the attorney for Brown's parents, told The Associated Press that Wilson's account was "self-serving" and that it doesn't matter what happened in the car beforehand. The officer's story also contradicts some eyewitness accounts saying Brown was trying to flee.

"He was definitely not in fear of threat when Michael Brown was running away from him," Crump said.

Wilson was placed on leave while a grand jury weighed charges against him. The officer appeared before a grand jury in September, a move that legal experts called surprising because he was not required to testify.


What's next in Ferguson?

Protesters called for Wilson's arrest for months. They staged demonstrations around the St. Louis area, including at the Ferguson police department, which has drawn bad blood with some residents in a community where tension has been boiling over since Brown's death.

Protesters had also asked St. Louis authorities to give them a heads up on when the when the grand jury decision would be announced. The governor held a press conference on Nov. 11 to discuss law enforcement plans ahead of the event, which included coordination with the National Guard.

Missouri law enforcement has undergone nearly 5,000 hours of specialized training, with an emphasis on protecting the civil rights of demonstrators, Gov. Jay Nixon said on Nov. 11.

"This is America. People have a right to express their views and grievances," Nixon said. "But they do not have a right to put their fellow citizens and property at risk."


Patricia Bynes, democratic committeewoman of Ferguson, said the protesters have known for weeks that Wilson wasn't going to be indicted.

"People have already been prepared," Bynes told Mashable. "This isn't new to people who are in this."

Over the past few weeks, St. Louis has become ground zero of a civil rights movement. Protesters have gone outside Ferguson, demonstrating in front of prosecutor Bob McCulloch's office, at the Cardinals playoffs and outside the stadium at the St. Louis Rams games.

Two-thirds of Ferguson's 21,000 residents are black, but only three of its police officers are black. The Ferguson police department is now under federal investigation for possible civil rights violations stemming from the riots in August after Brown's death when cops shot rubber bullets and tear gas at protesters. 

Bynes said she wouldn't be surprised if there was a repeat scene in the coming days in Ferguson. She added that many of protesters who have been in front of the police department for weeks said they would stay at home if Wilson wasn't indicted because the protests could turn violent.

"It's going to be a whole different brand of people," Bynes said. "Some of those are people who don't have good intentions."

Ashley Yates of St. Louis, co-creator of the group Millennial Activists United, noted that the vast majority of protests have been peaceful and said Nixon should focus on addressing the systemic problems faced by minority communities, "not reactionary policing techniques."

"There is a significant effort to make sure that people's rights are protected and that there's no violence on either side," said Andy Stepanian, a spokesman for several protest groups.